Welcome to Hotell Hamnen
With Kalmarsund as the nearest neighbor, Hotell Hamnen is in the best location in Färjestaden on Öland. Our other neighbor is the harbor plan, which in the summer is a popular destination for both tourists and locals, here you will find, among other things, cozy restaurants and cafés.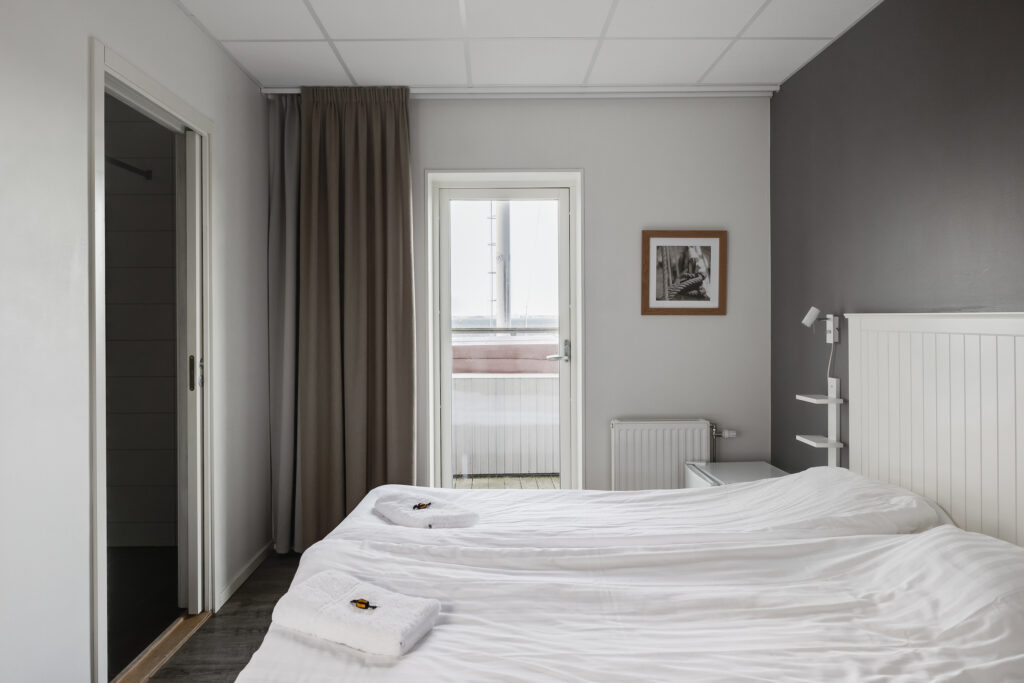 Our rooms
Basic double room
Size: 17 sqm
---
Some lake view
Sleeping space for 2
Double bed
Comfort double room
Size: 20 sqm
---
View towards the sea
Sleeping space for 2
Double bed
Superior double room
Size: 26 sqm
---
View towards the sea
Sleeps 4
Double bed and sofa bed
Family apartment
Size: 70 sqm
---
View towards the sea
Sleeps 6
1 double bed, 2 single beds and 1 sofa bed
Hotell Hamnen in Färjestaden Öland
Färjestaden was up until 1972 when the bridge was built, dependent on Ferry services which docked just below our hotel. This was Öland's biggest link to the mainland for a long time, ferrying islanders, businessmen and tourists from Kalmar. Remaining in the harbor is now one of the many ferries that served Kalmar Sound.
The hotel's original building was, before the bridge, a gathering place for all travelers.
On the ground floor there is now Restaurant Epok, which we warmly recommend a visit. www.epokoland.se

During the summer months there is full activity for tourists and islanders who choose to visit the Ferry Town and a natural end to a summer day at the beach just south of Hotell Hamnen. There you will find a beach that also has a larger pool at Talludden, which is the name of the beach. Around the hotel during the summer you will find several activities in the harbor area such as car shows, music activities, shops, bakery, ceramic workshop and restaurants.

If you wish to explore the island by bicycle, these are available for rent a bit up Storgatan, www.cykelaffaren.se. Öland now has a cycle path from the Långe Erik lighthouse in the north all the way down to the Långe Jan lighthouse in the south.